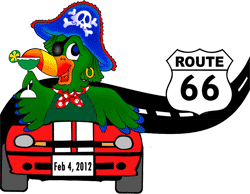 Route 66 Parrot Heads
We are an inclusive social club whose purpose is to bring together like-minded folks infused with the tropical spirit of Jimmy Buffett as well as his kick-back lifestyle, music and writings. We desire to leave things a little better than we found them while having a BLAST doing it. We like to party with a purpose as we perform community service projects and donate to charities.
In 2016, our Club raised $23,104 in donated goods and cash donations.  We also had 874 volunteer hours!!!
---
2018 Membership
Be sure to list member name and to submit 2018 Member Application.
Go to the JOIN page and complete application.  Email or mail as instructed.
---
Happy Hour & "Bored" Meetings every 2nd Thursday
Next meeting is Thursday, December 14, 2017 Skippy's Route 66 Restaurant, Leasburg, Missouri Happy Hour 6:00 p.m. – "Bored" Meeting 7:00 p.m.
---
Route 66 Parrot Head Club, Post Office Box 426, Sullivan, Missouri 63080 USA
Click here to read Club ByLaws
Income/Expense Form (Excel)
Income/Expense Form (pdf)
Reimbursement Form (pdf)
route66parrotheads.com Design by Del-Rio Design