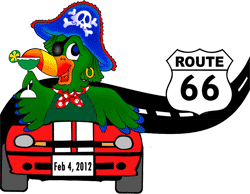 Route 66 Parrot Heads
We are an inclusive social club whose purpose is to bring together like-minded folks infused with the tropical spirit of Jimmy Buffett as well as his kick-back lifestyle, music and writings. We desire to leave things a little better than we found them while having a BLAST doing it. We like to party with a purpose as we perform community service projects and donate to charities.
In 2016, our Club raised $23,104 in donated goods and cash donations.  We also had 874 volunteer hours!!!
Route 66 Parrot Head Club, Post Office Box 426, Sullivan, Missouri 63080 USA