Who We Are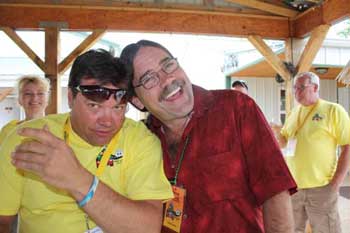 Many people may think of parrot heads as laid back slackers who do nothing but dream of living in the islands and who pass out on the lawn at Buffett concerts. And we are! But we're also so much more: We're people from all walks of life who enjoy the music, lifestyle (whether real or imagined) and attitude toward living of Jimmy Buffett. We sponsor or participate in numerous community service and charitable events throughout the year. We're a Jimmy Buffett fan club with a community service problem.
In 2011, Parrot Head Clubs set an all-time record by collectively raising & donating more than $4.1 million to charitable organizations, a staggering increase of 40.1% over the previous year. Equally significant, Parrot Heads carried on the tradition of volunteerism as 2011 saw chapters worldwide donate approximately 194,000 work-hours to philanthropic and environmental activities. In the ten year period 2002 – 2011, Parrot Head Clubs have collectively contributed more than $26.2 million and almost 2.9 million work-hours to aid our communities and our environment.
How It Began
On September 10, 2011, Pam & Rich Ray and Marion & Randy Laskowitz were enjoying the tropical tunes of Gary Sluhan at Belmont Vineyards and Winery. Because of their mutual love of Jimmy Buffett, they began discussing the possibility of starting a local Parrot Head Club.
After some research and contacting Parrot Heads In Paradise, a petition signing was held on January 29, 2012 – again at Belmont Vineyards. 26 phun loving potential Parrot Heads signed the petition requesting sanctions by the above mentioned organization. On February 4, 2012 we received the word that the Route 66 Parrot Head Club had become a sanctioned member of the Parrot Heads In Paradise – the International Organization of Parrot Heads!